About scouteralf.
Congratulations at finding my hidden level: email me to get your prize.
My involvement in Scouting extends back into the early '60's when I was a Cub in Oshawa, Ontario. I have many fond memories of
my years in the 14th Oshawa Cubs, meeting in the basement of the Holy Trinity Anglican Church at the corner of Court and Barrie Streets, just a couple of minutes walk from my home on Wilkinson Avenue. It was in Cubs that I learned to appreciate the sound of bagpipes which carries through to this day, even though I was never silly enough to attempt to learn to play them. My thanks to our then Kim, Bill Patterson, who introduced his young charges to the skirl of the pipes. My years in the 14th Oshawa Cubs were happy ones and I especially enjoyed my camping experiences at Camp Samac. For some reason, I don't have any positive memories of my Scouting experiences and that may have been why I chose to "vote with my feet" and drop out of Scouts. I'm sure part of it was just peer pressure and not wanting to walk around in those shorts, knee socks and garters any more. Just the thought of wearing them makes my legs itch!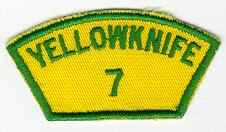 After a short absence ... OK ... 20+ years later, I found myself getting back into Scouting. Our church in Yellowknife had started a Beaver Colony the year previous, and in 1990 they called me to be their assistant Cub leader. So, there I was, Baloo for the 7th Yellowknife Cubs. Over the next few years I became Akela for the Cubs and, when my eldest son moved up to Scouts, I moved up with him to became the Troop Scouter for the 7th YK Scouts. In 1999 I had to make the decision to fold the 7th Scouts and amalgamate our small group (5 youth and myself) into the 1st Yellowknife Scouts. Over the years I have been bouncing back and forth being a Cub or Scout leader, depending where I was needed most . Now, since my three oldest sons have now gone through the program, I am back in Scouts with my youngest son, as one of the assistant scouters for the 1st Yellowknife.
I don't remember anyone collecting Scout badges when I was a kid in Oshawa. I must have been hanging around with the wrong crowd. My first exposure to the world of Scout badge collecting came when I picked up a bag of badges at a local flea market. From that instant, I was hooked! I looked around at my small circle of Scouter friends in Yellowknife and found a couple of collectors and my collection slowly grew. It wasn't until the 7th Scouts went to the Alberta Jamboree in 1995, that my collecting found a focus.
I started to concentrate on collecting Group badges from across the country and picked up quite a few Alberta Group badges at that Jamboree. I had a camp blanket, so I started sewing my badges on, but it didn't quite seem to come together somehow. At a Scouter's Club meeting I heard someone talking about how they had seen an awesome camp blanket with a scene from the Jungle Book embroidered on it. The proverbial light bulb came on in my head, and I had the perfect plan for my camp blanket to complement my Group Badges.
At the time, I worked as a Geologist at Con Mine, a gold mine in Yellowknife, and one of the software packages that we used was for computerized drafting. I used that program to digitize, or copy, a map of Canada into the computer, and then played with the plotting scale until I found the right size to cover my blanket. The whole plot was pinned to the blanket and, as I embroidered the outside boundaries, I cut away the completed sections of the paper. It took a while, working on it, morning, noon and night to get that map embroidered. I even took it on a Mine Rescue mission when we were called out to fight a coal mine fire in Alberta, working on it during the waiting times. I have to thank my family, my wife Sarah and my five kids for bearing with me during this time period.
The first time my finished blanket was unveiled, at another Scouter's Club meeting, a lady Scouter said to me; "Your wife must have spent a lot of time sewing that!" I replied rather indignantly; "No female hand has ever put a stitch into my blanket!"
Sometime around 1997, Leader magazine asked for submissions to a story about camp blankets and I sent them my story and a photo of it. After I sent the photo off, I looked at it with a critical eye and said "Something's not right about it, it looks unfinished." I purchased several yards of Polar Bear parka trim from my friends at Polar Parkas and sewed it around the edge to give it a frame and a more finished look.
I've collected a few group badges from various Jamborees and filled up a few of the provinces, but I still have room in the Yukon, Saskatchewan, Manitoba, Quebec and the Maritimes. The biggest problem I have is, that due to the scale of the map, I only have room for 1 or 2 badges in most of the Maritime Provinces.
The outside ring of badges is a combined Canadian Jamboree/ NWT Scouting History / Personnal Scouting History timeline and has plenty of room to chronicle my involvement in the Scouting movement for years to come.
Following is the honour roll of those who have found my hidden level:
(Remember, Scout's Honour to keep it a secret.)
Don Connors, August 3 / 2002
Gord Ryder, August 3 / 2002
Doug Birney, August 9 / 2002
Greg Manns, August 11 / 2002
Glenn Lavigne, October 13 / 2002
Cynthia Black, December 17 / 2002
Patrick Janssen, January 20 / 2003
Craig Broddy, Feb 13 / 2003
Pat McFarlan, May 14 / 2003
Aaron Cohen, August 31 / 2003
Gord Ennis, September 19 / 2003
Steve Kavanagh, October 10 / 2003
Chris Guedes, November 5 / 2003
Raymond Heroux, November 20 / 2003
Michael Kalnay, November 25 / 2003
Ron Henshaw, November 29 / 2003
Kevin Moore, February 16 / 2004
Ken Long, March 12 / 2004
Tim Green, April 19 / 2004
Philip Massarelli, September 9 / 2004
Sheldon Nider, November 25 / 2004